Nick Kyrgios is in the news for tennis lately.
Nick Kyrgios is in the news for his tennis lately. Any mention of Nick, however, cannot be entirely non-controversial, therefore, true to his reputation, even his title-winning performance at the Acapulco event last week was accompanied with the usual immature, provocative, and Kyrgios-like antics.
Nick took out three players ranked within the top 10.
Kyrgios dismantled some serious tennis royalty to win the crown at Acapulco. Nick not only took out three players ranked within the top 10 but also Stan Wawrinka.
He showed uncommon grit and saved three match-points and snatched – a tough three-set – victory from the jaws of defeat against, Rafa, the second-best tennis player in the pre-quarters. He then eked out a tough three-set win against the dangerous Stan Wawrinka, in the quarters. Then, for a change, he backed up those tough wins by wriggling a three-set win over the ninth-ranked John Isner in the semi-finals, and topped the week with a 6-3, 6-4 decimation of Alexander Zverev – ranked 3 in the ATP rankings.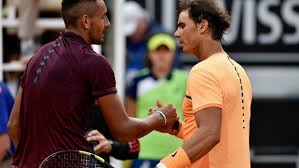 Nick didn't want to listen to Nadal at all!
His amazing hard-fought run, however, was colored with the usual Kyrgios-like incidents such as his trademark misbehavior with the spectators and on-court tantrums, and an under-hand serve against Rafa. Nadal in his post-match interview commented that Nick needed to show more respect to his opponents, the crowd, and himself. Nick, however, didn't want to listen to Nadal at all!
There's never a doubt about Nick's talent.
There was rarely a doubt about Nick Kyrgios's talent and athleticism. His explosive speed is as much an outcome of his basketball background as genetics. The problem with Nick has been his penchant for playing for and to the gallery. Nick doesn't crave appreciation as much as he wants his presence to be recognized. He thrives on open display of hate and, as well as, love by the fans and he solicits reaction by being a clown, if need be, on the court.
Until Nick Kyrgios begins to play for winning and finding ways to win, he will only be a giant-killer and an upset-master at best. He needs a more focused approach to winning if he truly wants to bag one of those slams sometime soon.