Maria Sharapova – First The PEDs, Then The High Road
The former world number 1 and multiple Grand Slam champion, Maria Sharapova, is not getting any respite from her peers, who have made it a point to express their unhappiness with her. After being suspended for 15 months because of the use of a banned substance, Sharapova had returned to the tour earlier this year, and many players, especially Eugenie Bouchard, did not think that she should have such a roaring welcome.
Bouchard had publicly said in April, ""I don't think a cheater at any sport should be allowed to play that sport again. It's so unfair to all the other players who do it the right way and are true. I think from the WTA it sends the wrong message to young kids: 'Cheat and we'll welcome you back with open arms.'"
Sharapova Plans On Taking The 'High Road'
Sharapova has refused to talk back to anyone who has said anything negative towards her or her actions. Taking what she has called 'the high road', Sharapova decided to make it known from her own publication in The Player's Tribune that she would not respond to criticism.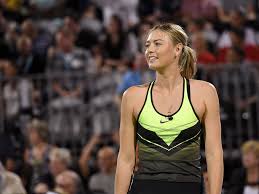 Genie Not Fooled By It
After defeating Sharapova a few days ago at the Madrid Open, she was asked whether her opinion on Sharapova remained the same. Bouchard stood by her original comments with resounding conviction.
"I went out and once I got on the court, I put everything else to the side and I just wanted to play as well as I could. I definitely had a little bit of extra motivation to kind of do it for all of us who have been fair to the sport and who have played the sport the true way it's meant to be played," said Bouchard.
What Else Can Sharapova do?
Sharapova has continued to refrain from responding to such comments.
Sharapova had written in her publication, "I'm aware of what many of my peers have said about me, and how critical of me some of them have been in the press. If you're a human being with a normal, beating heart, you know … I don't think that sort of thing will ever fully be possible to ignore. And I don't think it will ever not be weird or hurtful to go through.
"But at the same time … I've always tried to keep a generous attitude toward critics in general — whoever they are, and whenever they've been there. I've never wanted to respond to the people trashing me by trashing them back; that's always been important to me."
It might take more than her entire career for Sharapova to regain respect from her peers, and with the way things seem on tour right now, even that is very unlikely. With Sharapova having to miss the French Open because she did not receive a wild card, as well as with her missing Wimbledon because of a hip injury, karma may just be biting back at the once Golden Girl of tennis.
Save
Save
Save
Save
Save
Save
Save
Save
Save
Save
Save
Save
Save