Konta and Vekic Making Waves at Nottingham
Johanna Konta, Britain's number 1 women's singles tennis player is now in her first WTA grass court final at Nottingham. In the semifinals of the Aegon Open she beat Magdalena Rybarikova in straight sets, 6-2, 7-5.
With Wimbledon just around the corner and British tennis on the rise, it could be that Konta ends up being a strong contender on her home turf at Wimbledon. Konta has also been having a strong season, this being her third WTA final in 2017. She earlier reached the final at Miami Open and the Apia International Sydney, strong breakthroughs for the British player. These finals have been a great confidence booster and have definitely helped her improve her play at the crucial moments in a match, which must have definitely helped her reach the finals of Nottingham.
Konta's powerful ground strokes have become a bit more consistent and tactically useful, allowing Konta to take some more risks on important points. In the match against Rybarikova, it took some time for Konta to adjust and get her game on track, but then she would dominate so well that she would take the next six games in a row. After winning the first set she would open the second with a break.
From there things became a little tougher for Konta.  Ryabarikova would break back, making it 1-1 in the second, and from then on the two players would keep be kept at bay from any sort of lead, with Konta unable to convert two of her break point opportunities. At 5-5 though, Konta would be able to put her foot on the gas to break Rybarikova in the last game of the match and move on the the finals.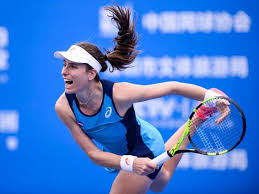 Konta seems to be quiet happy with her performance.
"I'm looking to constantly improve and evolve as a player, regardless of surface. The good thing is that the things that you work on do transfer from surface to surface. I'd like to think I've improved in all areas of my game since last year this time, and I'm glad that it's also coming through on grass," reflected Konta in her post match interview.
"(Ryabrikova) is a very effective player on the grass, and she was coming in with a lot of grass court tennis and matches and confidence on the surface. She definitely played like that as well, so I'm happy with how I was able to adjust and get stuck into the match as much as I could. I felt like I competed well."
With Konta's new competitive intellect and determination, she seems all ready to play in the final against Dona Vekic, the Croat who caused a major upset to the number 5 seed Lucie Safarova in a hard fought three sets, 7-6(5), 3-6, 7-6(4). Vekic seems to be playing well as well apparent from her elation after winning her tough semifinal match.
"I'm very happy to be in my first final of the year. I've been playing well all year and I've been looking forward to the grass court season, so I'm happy that my first final is on the grass!"
With Vekic hitting 16 aces against Safarova, and Konta at the top of her game, the Nottingham final should prove to be extremely interesting.
Save
Save