Isner Evades Facing A Single Break Point
John Isner Doesn't Face A Break Point
The break point is one of those instances in a match where the stakes are dangling over a cliff. Win the point, and you fight for your life to be able to bounce back and hold your serve. Lose the point, and try your best to break back so that you don't go down two games in a row.
In a game like tennis serve and return can make or break a match, and even the slightest of weakness in your serve game spurs the opponent to raise their level and push for the break.
With the break point being such an integral and crucial part of the match, John Isner has achieved quite the fear, becoming the first man in a decade to win an ATP tournament without even facing a single break point.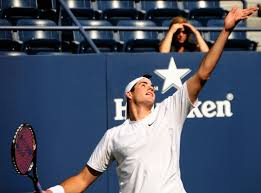 Isner Wins Hall of Fame Open
On Sunday Isner won the Hall of Fame Open, where he defeated the Australian, Matthew Ebden, 6-3, 7-6(4). He managed to win is 11th title on the grass courts of Newport, and this happens to be his first title sine 2015.
While Isner is ranked 21 in the world, and faced a second round defeat at Wimbledon, he displayed some great tennis, and he believes that he should be able to carry that level throughout the rest of the season.
Isner's serves clicking like they had never clicked before at the Rhode Island tournament, where he managed to go through four matches without facing a single break point, a difficult feat no matter how renowned your serve is.
Read the last word on the Wimbledon 2017 final here
"I could never imagine playing four matches and not facing a break point but I'll certainly take it," said Isner.
"I served well all week, played extremely well all week. This is a very good tournament for my serve and I knew it was going to be hard for my opponents to break me."
"It's been a few years since I won a tournament and it always boosts your confidence, so I'm looking forward to the rest of the summer."
"It was my best returning display in quite some time. I came into this tournament with the right mindset and executed my game plan to perfection all week. This is how I have to keep playing."
"It doesn't matter the surface… If I just take the tournament with the right mindset, I'm going to be a very tough out."
"I like the fact I'm serving and volleying a lot and that's something I think I can do on the hardcourt as well," contemplated the American.
Save
Save
Save