French Open Tennis: Dissecting Alexander Zverev's loss to Dominic Thiem and Novak Djokovic's to Marco Cecchinato
Noval Djokovic was ousted 3-6, 6-7 (4), 6-1, 6-7 (11) by Marco Cecchinato and Alexander Zverev lost 6-4, 6-2, 6-1 to Dominic Thiem in the quarterfinals today.
Marco Cecchinato has got game and spunk.
Novak Djokovic didn't play a bad game, but Marco Cecchinato was a little better. Marco's aggressive playing style is similar to Roger Federer's, and like the Maestro, Marco strikes the ball early to take time away from Novak and, unlike Roger, Marco is still young and could stay with Djokovic in a five-set encounter. Roger Federer at 35 could beat a 28 years old Novak Djokovic in three sets, but lost steam and capitulated to the Djoko grind in five-setters. Federer's first strike, and aggressive playing style has always been a problem for Novak, and Cecchinato employed that style to the T to stifle Novak's defensive and retrieving abilities.
Marco's single-handed backhand is functionally effective, and his down the line backhand quite powerful. He hits that shot somewhat flat and strikes the ball early to cause damage with it.
Some time back, in 2017, 138mph had claimed that Novak Djokovic needed to improve his net approach if he intends to play beyond his 32nd birthday. It seems Novak has been working on his net-approach and was better in his court positioning at the net this time around. Against Marco Cecchinato, Novak won 21 of his 31 net approaches and 144 total points as compared to 140 by his opponent.
Novak Djokovic, however, needs to win a tournament to get energized and motivated to continue playing.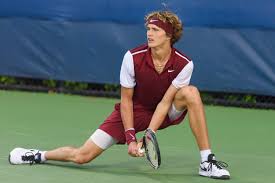 Alexander Zverev needs to play closer to, or inside, the baseline and approach the net.
We, at 138mph, have not been sold on Alexander Zverev's prospects as a multi-slam winner. His shots are powerful, and the service exceptionally effective. His habit of standing five, or more, meters behind the baseline, however, makes his game quite obvious to the opponents. He lacks the element of surprise to his game and will be condemned to go down fighting bravely in the second weeks of slams, unless he resolves to step inside the baseline, and towards the net.
Alexander Zverev should learn to approach the net more if he truly wishes to win slams.
Dominic Thiem suffers from the same ailment as Alexander Zverev, but there has been some attempt to play a little more aggressively, and move in towards the net, lately on his part. Dominic Thiem will have his hands full against Marco Cecchinato in the semi-finals, and there's a possibility that Marco could make the finals of the 2018 French Open.