Fabio Fognini's scintillating winners, and Nadal's and Djokovic's grind, from the baseline.
Rafael Nadal fought off a resolute Pella in the first set and then rolled over the Argentine in the second to win a 25th consecutive set – and his quarter-final – in Monte Carlo. Novak Djokovic, on the other hand, was not that lucky and ousted 3-6, 6-4, 2-6 by the consistent Daniil Medvedev in the quarterfinals. Nadal then succumbed tamely in straight to the super-talented Fabio Fognini in the semi-final.
Novak Djokovic is erratic and vulnerable in a three-set format, nowadays.
Novak Djokovic has the soul of a hard-core baseline-grinder and can even out-grind Rafa – in Roland Garros – from the baseline. He, however, has made a concerted effort over the last few years to become an all-court player like the Maestro and even hired, the serve-and-volley expert, Boris Becker, to inject the severely-missing net-rushing gene into his DNA.
Novak, however, continues to forget basic court geometry when approaching the net and doesn't come close enough – to the net – to cut the angles effectively; and, appears like a deer stunned by the bright searchlights.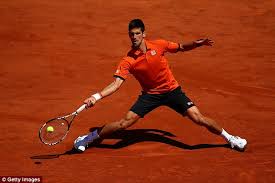 Djokovic could do well by applying a little pressure and rushing the opponents.
Djokovic would be better off by approaching the net instead of executing sloppy drop-shots from the baseline.
Medvedev was comfortable at the baseline and Novak did little to disrupt his rhythm or baseline consistency. Novak Djokovic did not take time away from his opponent and eventually succumbed to Daniil's consistency. What Medvedev and Hyeon Chung accomplished with baseline consistency, others, like Alexander Zverev and Karen Khachanov, achieved through baseline power. We, therefore, opine that Novak Djokovic – the ultimate grinder – is quite vulnerable in a best-of-three format. Novak too understands that reality and is, therefore, more comfortable with his slam prospects.
"French Open is the ultimate goal on clay, and it's expected – in a way – for me to peak right at that tournament, because that's what I'm aiming for;' this is only the first tournament on clay, and it's a long season," Djokovic said after his loss to Daniil Medvedev in the quarters.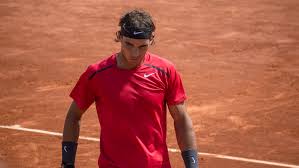 Rafael Nadal is a creature of habits.
Rafael Nadal is not only good at volleying but also adept at approaching the net. Years of successful baseline grinding, however, has made Nadal quite comfortable at prolonging rather than shortening points. Rafael Nadal can rush the net and even volley deftly but – as a creature of habits – prefers to play from seven feet behind the baseline and is content with whipping, top-spun, cross-court forehands all day long, and waiting for the opponent to unravel. Why change the winning formula? The formula may not be as effective as it was, but it still wins him the French Open and Rafa seems okay with that.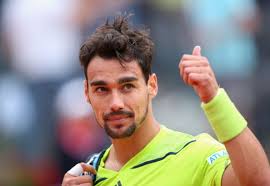 Fabio Fognini's decimation of Rafa was a shot-making 101 class.
By varying the ball's flight, spin, placement, and the pace at will, Fabio Fognini finished points quickly from the baseline. Rafa appeared helpless and out of sorts because Fabio took the ball early and flattened his shots – for screeching winners – at will. He gave Nadal little time and pressured Rafa into making errors and hitting short-balls which became easy fodder for Fognini's winners. The decimation of Rafael Nadal was a shot making 101 class by Fabio and should also serve as a wake-up call for Rafa, and a road-map – against Rafa – for the others on tour. Nadal is fooling no one by calling it one of his worst matches on the clay in 14 years. He was forced to play badly by Fognini, and there was little he could do to salvage the situation.
Rafa lamented the level of his play in the interview later. "I played a very bad game against a good player so, in that situation, you have to lose, (and) that's what I did this afternoon," Nadal said.
"I probably played one of the worst matches on clay in 14 years," Rafa  commented in his post-match interview.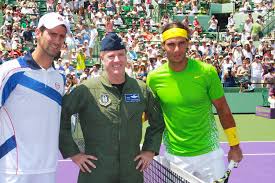 Don't Novak Djokovic and Rafael Nadal hit enough winners to be called grinders?
We'd give anyone – not named Roger Federer – a 15% chance of beating either Novak or Nadal in a five-set format, but as much as 40%, or better to – just about anyone ranked in the top 50 – take out either in a best of three sets format! The best of five-set format allows Nole and Rafa to grind the opponent into exhaustion, and belt easy winner at the end of the long rally and in the third, fourth, and fifth when the opponent is too worn out, both mentally and physically, to maintain the high intensity and level of play. Most of Novak's and Nadal's, winners, unlike Rogers and Fognini's, are produced after six or more shots. Many of their early round and lower ranked opponents know – before starting the match – that they stand little chance against either – in a five sets duel – and give-up after losing the first.
Will Djokovic overcome his inability to finish points quickly?
The lack of a serious weapon and discomfort at the net is the main reason for Djokovic's inability to finish within six shots. Novak's forehand is good but not a weapon like Federer's, Nadal's, and Del Potro's, and his backhand is one of the best but not a WMD like Wawrinka's. The transfer of weight from the non-dominant to dominant foot doesn't allow the backhand to generate weapon-grade destructive capabilities – like the forehand. Novak's service is also good, but not nearly as destructive as Karlovic's or Isner's. A good forehand and service, coupled with an excellent backhand should suffice to end points quickly if complimented with the natural talent to approach the net. Djokovic, therefore, is condemned to stalking the baseline and unleashing a war of attrition on quality opponents. Sometimes the best-of-three format is just not long enough to win a war of attrition.
Will Nadal ever want to finish points quickly?
Nadal's forehand is a serious WMD on the clay and against most who have not mastered the skills of converting high RPM and shoulder-height balls into down the line winners with their backhands. We believe, Nadal's forehand gives him the leverage to continue – at least on the clay – as a baseline grinder, even in a best-of-three format. There'll always be an in-form Fognini, Djokovic, or Thiem to shred him apart on a given day, but on most occasions, his forehand will manage to save him the day. Rafael Nadal, unlike Novak Djokovic, doesn't care about finishing points early, transitioning into an all-court player, or even being liked or disliked by the spectators. He is first and foremost a warrior whose sole concern is to win the match, even if he is hated and cursed for it.