ATP Tennis: Roger Federer, the Maestro, goes walkabout.
Will ennui, brought about by age, bring the Maestro down eventually. He had the tendency to go walkabout, in a match, and that proclivity seems exponentially pronounced now.
Federer seems to lose concentration after securing a lead.
Take, for example, the second set, against Roberto Bautista Agut, where Federer lost the plot after a set and break up. Roger just wasn't in the match after the break in the second and eventually lost the second, but recovered in time to wriggle out a win in the third. He barely managed to save his skin against Bautista Agut. Against Nishikori, he seemed quite comfortable until he went walkabout to give up the service break in the second. He then went down 1-4 in the tie-break, but, somehow, reeled off six consecutive points to close the match out in two sets.
Federer's service game caves in upon lapse of concentration.
We understand he still has the skills and the sporadic drive to come out of a tricky situation against just about anyone, however, the ever-so-often Houdini act takes its mental toll and falls short in a five-set format against the very best. Like most aggressive players, Federer too relies on his service to move in and set up the kill, and that service is the first to crumble during those lapses of concentration.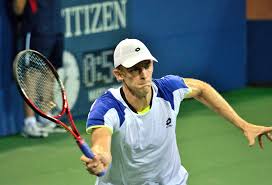 Federer is no more the front-runner he was.
Federer was a terrific front-runner in the past and was near impossible to beat upon winning the first set. Nowadays, however, a first set victory portends an eventual loss of five or hard-fought three setters. His inexplicable Wimbledon quarterfinal 6-2, 7-6 (5), 5-7, 4-6, 11-13 loss against Kevin Anderson and the 6-3, 5-7, 6-7 (7), 6-7 (3) US Open debacle against John Millman are recent cases in point.
Aggressive versus retrieving tennis.
Is Federer running out of gas after the first set? The aggressive brand of tennis requires more energy and focus than the retrieving-brand which allows ample room for errors and corrective measures. Retrieving tennis has a debilitating long-term effect on the joints of the player and minds of that player's fans 😊 who begin to believe that long-drawn-out and exhaustive rallies are the epitome of creative, inspired, and beautiful tennis. They start confusing tennis talent and timing with athleticism and stamina, which, by the way, are only tools to help play good tennis.