Nadal, Djokovic, Thiem, Murray & Wawarinka – Contenders at ATP Rome
In Madrid Nadal established his supremacy on clay yet again and the show now moves on to Rome.  Will anyone be able to displace Nadal here?  Isn't Rafa tired by now?   Will Murray show up for the matches here?  Will Thiem build on his confidence from a strong showing at Madrid?
So who are the contenders here and what can we expect from them in Rome?
The first and foremost is still Rafa.  He has won three tournaments on clay already this year and there is no reason why he should not be the favorite to win this one too.  He has been impossible on clay this year and his game has become better with each match that he has played.  He is probably tired from all the playing since the start of the clay season, but it is normal for Nadal to play everything on clay and he should be able to handle another tournament.  His quarter against Thiem could be interesting assuming Thiem manages to reach that far.  Barring a surprise, we expect Rome to be a Rafa show too.

The current number one has been missing so far and still seems to be working on developing his clay feet.  Rome is his last chance to gain some momentum if he is serious about making a bid for the French Open.  However, the clay gods are really not on his side as far as the draw is concerned.  He opens against Fabio Fognini who has been playing well and even gave Nadal some trouble in Madrid and if he can get past Fabio then he will probably have Sascha Zverev waiting in the next round.  Murray's prospects at Rome really don't seem very bright but it'd be silly to completely write off the number one.

Djokovic had a dismal showing against Nadal and he still needs to get past his mental demons to make any serious impression here.  However, he may get a chance to avenge his losses to Kyrgios if Kyrgios manages to get past Bautista Augut.  If Novak is able to reach the semi finals somehow, he'll probably face Nadal again and Nadal will give it all that he has to build on his win over Novak just last week in Madrid and school Novak yet again.   Will Novak have an answer for Nadal this time around?

Wawarinka has been walkabout the entire clay season so far and there is little chance of him returning sometime during this tournament.  However, his quarter seems relatively easier as compared to the bottom half and quarters and we all know how dangerous Wawarinka can get to be in the later rounds of any tournament.  He could meet Goffin in quarters and if he can maneuver around that landmine then it could become easier to handle Murray, Sascha or even Raonic in the semis.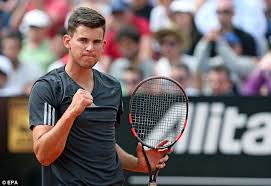 Thiem could become the favorite to win if he can get past Lucas Pouille and then Rafa in his quarter.  He gave it his best in Madrid and came short against Rafa and it'd be a major uphill task to beat Rafa after losing to him less than a week ago.

Alexander Zverev could make some serious upsets here but it'd take an effort of Herculean proportions for him to win this tournament.  However, the draw could open up nicely for him to achieve some good results here.  He has always had the talent and perhaps this is where he gets the experience of winning a really big one!

Kyrgios probably could still be over-thinking his easy loss to Rafa last week and his draw here doesn't make it any easier for him.  If he can get past Bautista Augut, he'll then face Simone, then Novak and finally Nadal in the semi-finals and that's one heck of a line up to get past!

Goffin could be the real dark horse here.  Not only is his quarter the easier one but he has also shown good form lately and if the draw could open up a little more in his favor then perhaps this could be his to take.
Conclusion 
Winner 1st pick:  Nadal
Winner 2nd pick:  Any one else mentioned above