Miami Open – Tuesday Revealed
As the tournament approaches its Quarter Final stages, the matches are beginning to get tighter and the level of play even higher.  Here are some of the interesting ones for today:
Wawarinka v/s A. Zverev  
Young Zverev has the big guns and then some more.  His progress has been nothing less than spectacular over the last 12 months.   Stan too has been playing well lately and has gained some confidence because of his performance at the Indian Wells last week.  Zverev has beaten Stan once in 2016 in their only meeting so far, however I have a feeling that Stan might come out ahead in this one.   Neither player lacks fire-power but Stan can sometimes get unstoppable when on.  Will Stan be on for this one or will Zverev beat him yet again?
Winner:  Stan in 3

Federer v/s Agut
Can Agut stop Roger?  Yes he can, but will he?
It seems Roger is gaining confidence and new weapons by the hour.  It used to be his forehand that was feared, then his serve became a monster, and in 2017 his backhand took a ferocious life form of its own and now his return of serve is doing some serious WMD type damage out there.  What is happening with this guy?
These two have played about 5 times in the past and Roger has won all those encounters, but this a different day and therefore a different match and Agut might be able to extend Roger into 3rd set in this one.
Winner:  Roger in 2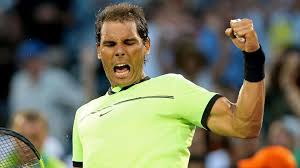 Nadal v/s Mahut
Nadal is gaining some serious confidence in 2017, but I am not convinced with his level of play yet.  However these two have played twice before and split 1-1 between them.  I expect Nadal to win in 2.
Winner:  Rafa in 2

Mirjana LUCIC-BARONI v/s Karolina PLISKOVA
They have met 6 times before today and split those meetings 3-3.   Lucic-Baroni beat Pliskova in three hard fought sets at the Australian Open 2017.  However this time around Pliskova should get by this highly inspired and tough opponent.  Mirjana Lucic is such a feel good story and it'll be great if she comes through today but Pliskova is a tough one and a possible number one within two years.  This should be a good one.
Winner:  Pliskova in 3

Caroline W OZNIACKI v/s Lucie SAFAROVA
The problem with Caro has always been lack of fire power.  However, those shortcomings are overcome by her unwavering and predictable consistency which generally crumbles against a hard hitting and on-fire opponent.   Can Lucie keep those hard hitting shots within the lines or will Caro manage to suffocate her by putting yet one more ball in?  These two have met 7 times before and Caro leads the H2H 4-3.   This one is too close to call so I'll be boring enough to go with consistency on this one.
Winner:  Caroline in 3