For Nadal the clay courts will ward of COVID 19
Rafael Nadal will not participate in the US Open because of the out-of hand COVID 19 situation, and barbaric scheduling. We, however, understand it is only the scheduling and not COVID 19. There is a gap of only a fortnight between the US and Frech Open. Would the effects of COVID 19 be any less a fortnight after the culmination of the US Open? We are certain to see Rafa at Roland Garros even if the pandemic situation turns worse a week before, and he is the only at, the French Open. For Nadal the clay courts will ward off COVID 19!
138mph had hinted at Nadal's last minute withdrawal from the Western & Southern and US Open less than a week ago.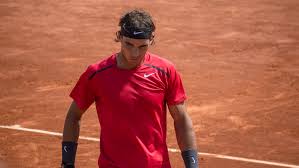 Nadal never intended to play the US Open with the tight schedule
Rafa spent the last four months practicing on and sweeping the clay courts. He harbored no intention of playing the US Open, with only a fortnight's gap between the US and French Open. Nadal is a little upset about the lack of time and space between the US and French Open. He will not get enough time to prepare for his beloved French if he plays the US Open. And, the choice was obvious. His name in the tune up to the US Open came as a bit of a surprise to many. Why go through submitting the name, only to withdraw at the last minute?
"After many thoughts I have decided not to play this year's US Open," Nadal said on Twitter.
"The situation is very complicated worldwide, the Covid-19 cases are increasing, it looks like we still don't have control of it.
"This is a decision I never wanted to take but I have decide to follow my heart this time and for the time being I rather not travel."

In Nadal's defense, the schedule is barbaric
There is nothing wrong with preferring one surface over the other. The Maestro would like as many events as possible on the grass. Novak, on the other hand, would prefer the slow hard courts over clay. For Nadal the clay courts mean more than any other. Nadal, however, should have clearly stated just that and the bit about the barbaric schedule.
And, in Rafa's defense, the schedule is indeed barbaric. Fourteen days are too little to even recharge after a grueling hard court slam. And, Nadal's knees might not recover in just fourteen days. The scheduling powers, that may be, should review the schedule and add at least two more weeks between the US and French. The Maestro and bull will be missed by many in the Arthur Ashe stadium this year.