Djokovic and Murray advanced while Thiem routed at Western & Southern Open
The Western & Southern Open is springing surprises not only in the women's but men's draw also. Murray, after an injury plagued hiatus, took out the fourth seed Alexander Zverev. Dominic Thiem meanwhile lost 6-2, 6-1 to the Serb Filip Krajinovic. By the end of the second round, Djokovic and Murray advanced while Thiem, and Zverev exited the event.

Tsitsipas and Medvedev also advanced
Tsitsipas routed Kevin Anderson 6-1, 6-3, and Medvedev dispatched Marcos Giron, 6-4, 6-4 in the second.
The dismantling of Kevin Anderson, a seasoned player as well as slam finalist, bodes well for Tsitsipas' prospects here. The absence of Nadal and Federer, however, made the men's draw resemble the WTA's! While the WTA loses high ranking top seeds in the early rounds, the ATP continues to hold its till the business end of the draw. At the Southern & Western Open 2020, however, the WTA as well as the ATP lost top seeds at the very start of the event.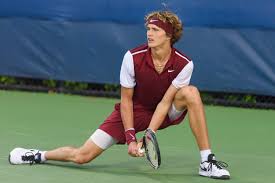 The other seeds to fall
Djokovic and Murray advanced while many seeds fell in the early rounds at the event. In addition to the third ranked and second seeded Thiem, fifth seed Zverev, as well as the eleventh seed Diego Schwartzman also saw the end at the event.
Also read – Top seeds ousted in the women's draw at the Western & Southern Open
The others to not make the third included Khachanov, Shapovalov, Garin, Dimitrov, and Auger-Aliassime. All ranked within the top twenty in ATP. Perhaps this tumult would usher the much wanted change in the ATP and uproot the reign of the Big Three. But, we are not going to hold our breath for that. Not until six consecutive slam finals are won by players not named Djokovic, Nadal, or Federer.
Could Djokovic's neck injury affect his performance going forward?
Novak withdrew before his doubles match citing neck pain on Sunday. The neck pain, it appears, hindered his performance in the first round against Lithunia's former world number one Ricardas Bernakis.
Djokovic in the post match interview, however, appeared positive about the neck. "It's getting better. It's been four days. It's not yet where I'd like it to be but it's heading in the right direction.
"Hopefully it will not react with the inflammation after tonight's match. We'll do everything possible with the physio and then we'll see what tomorrow brings."
We wish Novak a speedy recovery, because it would be a shame to loose the top seed too.