Will Wawrinka Shatter the British Hopes?
Murray and Wawarinka have both made their way to the semifinals of this year's French Open and their match is sure to prove interesting.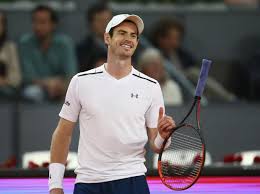 In Murray's quarterfinal match he played Kei Nishikori, winning in a four set match, 2-6, 6-1, 7-6(0), 6-1.
Although Murray did not play his best tennis in that match, he did manage to show grit and dedication, which enabled him to keep his cool after Nishikori showed some great tennis in the first set. In fact in the first set Murray did not seem to have much control over the points. While Murray was able to consistently keep his game at a certain level, Nishikori seemed to have bursts of great play followed by downhills in performance.
While Murray was somewhat able to get himself out of the funk he was in after the first set, the real change came in the second set where he received a second time violation from umpire Carlos Ramos. It seemed as if this would prompt Murray into further actions because he was frustrated. He was able to use that anger and win a string of points in a row because of his increased energy levels. Murray himself said, "obviously for a couple of points after that I was fired up because I was frustrated."
Although Murray considered this an isolated incident, it affected his entire game and gave him the much needed momentum to close and win the second set. "I needed to start putting more pace on my shots, he was dictating all the points in the first set. It was windy, so the timing was difficult, but once I was able to get into a rhythm and keep him away from the baseline, that made the difference," said Murray.
Murray did continue to dictate into the third set, but it was no longer a surprise and Nishikori was able to take the third into a tiebreaker. By that time though, Murray's domination was such that Nishikori was forced to use a lot of energy to keep up with Murray. By the time the third set tiebreaker started, Nishikori seemed not only physically, but mentally tired. It was obvious from the way he played and score. He lost the tiebreak without winning a single point, and Murray would go onto call it a "very bad" tiebreak from the Japanese.
This tibreak was all Murray needed to take complete control of the match and win the fourth set. Although Murray was broken in the beginning of the fourth set, Murray quickly bounced back and won the next 6 games in a row. While Murray hit nine more winners, Nishikori only managed to win 5 points in the last 4 games.
Although Murray won the match he doesn't seem to be playing his best tennis. This doesn't seem to be bringing him down too much though. "I didn't feel like I played great tennis today. It's a huge step in the right direction for me. Anyone can win matches when they are playing well. It's winning when your not playing your best (that) is more impressive."
On the other side of the net Murray will face Stanislas Wawarinka, who destroyed Marin Cilic in three sets, 6-3, 6-3, 6-1 in just a mere 1 hour and 40 minutes.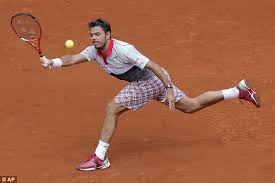 While no one really considers Stan a serious threat, he has won three of them before and showed that he could very well be this year's champion with not only his outstanding, powerful, and beautiful backhand, but also with his killer forehand, which he was effectively able to use during his match with Cilic.
Stan seemed to be a different person completely in this match, very much beast-like, and he now becomes the oldest semifinalist since Jimmy Connors in 1985. "Since I won in Geneva I found confidence with my game. I never give up. I work hard. I try to do what's right. I listen to my team. The past two or three weeks have been very good momentum. I'm playing really well. I'm very clam. I'm extremely confident about my game."
Wawarinka seems not only to be high on confidence, but also on an inherent belief that he can win this tournament. There is a tremendous change in mental state and attitude, aspects of tennis that have troubled him in the past.
"Andy defeated my last year," reflected Wawrinka. "He was playing better. Now the conditions are a little different. I think he's probably a bit less confident, a bit more hesitant. Hopefully I can take advantage of that and find solutions to beat him."
The third set of the match seemed to be a mere formality for Wawrinka. He won it so quickly, and the only questionable moment was when he rushed to the net to convert a match point, but lost his footing and fell to the ground. Although Wawrinka seemed a little tired, he did not let this slip effect his game and he would go on to close the match with a classic ace.
Wawrinka has indeed been playing some great tennis, and although he is confident in his game, he is not over confident, acknowledging the fact that although Murray is not playing his best tennis, he will still be a tough opponent to beat. Wawrinka knows he will need to bring out a high level of play in his semifinal match, but that seems to motivate him more than make him nervous. "He's struggling a little bit since the beginning of the year, but he's in the semifinal. So when a champion like him finds a way to win matches, he's playing better. But I know the way I am playing so far, and hopefully I can win.
Murray leads the head to head 10 to 7, and Wawarinka has lost the last two matches he played against Murray on hard and clay in 2016. However, just like Stan stated, the conditions are extremely different from 2016. Murray is having a lull in his career, while Wawrinka has been roaring through his matches.
The way things are going, not only does Wawarinka seem the likely winner of his next match, but also the tournament.
Save
Save
Save