U S Open Tennis – Roger Federer vs Frances Tiafoe
Frances Tiafoe is a dangerous player and even more so if he gets an early break. With the advantage of an early break, he can then let his highly explosive avatar loose and beat just about anyone. Roger Federer allowed Frances into the first set with a barrage of unforced errors, and Tiafoe raced ahead with an early break for a 3-1 lead which he never let go. In the first set, while Roger sprayed unforced errors from his racket, Tiafoe seemed to do no wrong. Tiafoe not only has a dangerous serve but also aggressive playing style which does not provide much respite to his opponent. His serve and the return of serve were both on a song, and his explosive forehand pushed Federer around the court.
Tiafoe dominates while Federer continues to take the ball early
Tiafoe's explosive shot making and blistering pace did not prevent Roger from hugging the baseline and taking the balls very early to take time away from Tiafoe.
The signs of a champion were visible in Tiafoe's  handling of the tenth game of the set when he was required to capitalize on the early break and win that service game. Even seasoned players stumble while closing out sets and matches against established champions like Roger.
However, an explosive forehand winner from his racket coupled with an unforced error from Federer's made Frances' task a little easier. The set point was gifted to him, as an unforced error, by Federer; and Tiafoe then wrapped the set, for a 1-0 lead, with a blistering inside-out forehand winner.
Federer registered eighteen unforced errors with only ten winners whereas, Tiafoe closed had only seven unforced errors and six winners. Roger could not convert his only break point opportunity, whereas Tiafoe converted the one that he got.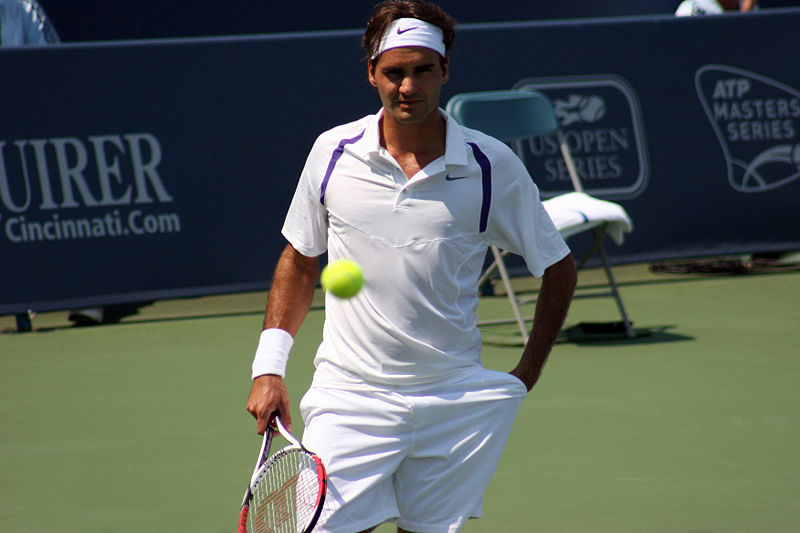 Federer recovers to win the second set
Federer started the second set with an ace wide out to the forehand side of Frances. Then, at 2-1 up in the second set, Tiafoe made a crucial volley error to give Federer an early break, and a 3-1 lead. Federer also raised his level of play to reduce unforced errors count to seven from eighteen in the first set. Roger won the last point of the set because of a backhand error by Tiafoe.
Roger at his best in the 3rd set
A blistering backhand winner off Tiafoe's service gave Federer an early break in the second game of the third set. The first rally of the third set, which Roger closed with an overhead winner, saw Federer at his vintage best. Roger then held his service game to gain a 3-0 lead in the set. Suddenly the proverbial order seemed restored with Roger finding his line and length on his return games.
Federer dominated the third set and by the start of the sixth game of that set had won 21 of the 31 points played and earned his second break, of the set, upon drawing a forehand error from Frances. Closing out the third set at 6-1 for a 2-1 lead on his serve was routine for Federer, thereafter.  At the end of the third set, Federer had clocked nine aces for a total of twenty-four winners as compared to ten winners and two aces by Frances. However, interestingly enough, Roger had no aces in the third set and yet he dominated allowing Tiafoe only 16 of the 46 points played in the set. Tiafoe could not come up with a single winner in the third set.
Roger goes walkabout and Tiafoe capitalizes on it
Tiafoe upped his level at the start of the fourth set and doubled his ace count to four by clocking two aces in the very first game of the set. Roger then served 2 aces in his service game and, at 1-1 in the fourth set, it appeared that the set would be competitive with Federer looking to close out the match, and  Tiafoe fighting to extend it into the fifth set. However, in the fourth game, Federer suddenly went walkabout, lost focus and the game with four unforced errors and a double fault.  Federer's level of play went down substantially thereafter and he went back to spraying unforced errors. Tiafoe, in the meanwhile, capitalized on the opportunity and produced inspiring tennis to dominate none other than the GOAT himself. Federer, under Tiafoe's relentless aggression and explosive shot-making, was not able to pull himself out of the fourth set hole and lost the set 1-6. Roger, for his part, made thirteen unforced errors and had only four winners in the fourth set.
Federer barely survives the fifth to move into the 2nd round
In the fifth set, Federer did what champions do when faced with the prospect of losing. He found a way to win. Tiafoe could not sustain the high level of his fourth set play, and Roger secured his early break for a 3-1 lead in the fifth set with two unforced errors by Tiafoe. However, Frances won the break back in the ninth game and then gave it back in his service game immediately thereafter. Roger played smartly by backing up behind the baseline a little in an effort to reduce his unforced errors. However, Federer still managed to make two more unforced errors but it was the one by Tiafoe that sealed the set and match for Roger Federer.
Federer wins while not playing his best tennis
Federer closed the match with forty-one winners, seventeen aces, and fifty-six unforced errors as compared to twenty-three winners, five aces, and forty-nine unforced by Tiafoe.  Roger was only able to convert six of thirteen break-point opportunities, whereas, Frances converted four of his five break points. Moreover, Federer's first serve percentage was merely 54%, and Tiafoe's was even worse at 51%. Federer will need to address his unforced errors count, and improve his first serve percentage and break-point conversions if he truly wishes to make a run for his 20th slam.
Tiafoe showed that he is one for the long haul, and Federer escaped a first round loss while proving that he can win a match even when he is not playing good.
Save