Tomic Feels 'Trapped' By Tennis
Tomic Regrets Playing Tennis
Bernard Tomic is going through a tough time. His failure to have any real results since 2015 has affected him greatly, so much in fact that he no longer wants to play the game, continuing his career for no other reason than him having nothing else to do, no where else to go.
Read the last word on the Wimbledon final here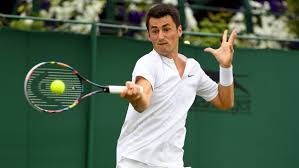 While Tomic was once an up and coming youngster, last year ranked 17, his performance throughout this year has lacked any hint of spark or fight. His ranking has plummeted down to 73.
In fact, Tomic is not only going through a bad spell, but is seriously regretting his decision  to commit himself to the sport.
"Tennis chose me. It's never something that I fell in love with," said Tomic. In tennis, a trial of mental strength more than physical, the most important factor for success is actual love and dedication towards the sport. Take for example Roger Federer, whose blatant enjoyment of the sport is a topic in almost every interview. Another prime example is Andy Murray, who had many losses throughout his career, but still managed to find the dedication to become a better master of his mind, as well as his body (there is a reason his 100 meter timing would qualify him for the Olympics).
"Don't play tennis," says Tomic
"Throughout my career I've given 100%. I've given also 30%. But if you balance it out, I think all my career's been around 50%. I haven't really tried, and still achieved all this. So it's just amazing what I've done," said Tomic.
Tomic even tells aspiring tennis players, "Don't play tennis."
Tomic would go on to say in a voice full of regret, "Do something you love and enjoy because it's a grind and it's a tough, tough, tough life. My position, I'm trapped. I have to do it."
"Don't come, just watch on TV"
Tomic also had a brilliant piece of advice for his fans when asked what those fans who come to watch him play should do.  "Don't come, just watch on TV , you don't have to pay anything," said Tomic.  Now that's something I have no problem accepting.
Save
Save
Save