Thiem is in, Djokovic is done, Nadal's resurgence is a dead cat's bounce, and Roger can still do damage!
Thiem is strong, athletic, and can generate just about as much spin as Rafa.  He has already beaten Nadal twice on clay and, like Nadal, has not lost a set yet at Roland Garros while dishing out 2 bagels, one of which was to the defending champion Novak.  He has a shot at beating Nadal in the semis and the win over Djokovic is a precursor to even greater achievements in the very near future.
The length, power and spin of his balls in the heavy conditions were uncontrollable by Novak in the quarter finals and his aggressive approach when under pressure was truly exemplary of a champion's mindset.  Novak put up as good a fight a he could in the first set but simply went away thereafter.   "Nothing was going my way and everything his way, so pretty bad final set but all in all it was decided in the first set," Djokovic said.
In his  next match Thiem may or may not beat Nadal but it is ridiculous to hear tennis pundits suggest that Roger is winning slams at 35 therefore Nadal and Novak have enough time on their sides!    That is the silliest comparison ever made.  The way Nadal and Djokovic play tennis, it'd be miracle if they are seen anywhere near a tennis court around the French Open in 2020.
And what the heck is happening with Djokovic?  Everyone, including Agassi, says his problem is mental, whereas the more important question should be what has brought about this mental malaise in Djokovic?
Djokovic's mental issues arise from his own realization of the fact that the game has sprinted past him and that suddenly after crossing his 29th birthday his style of play punctuated by the lack of a serious weapon is simply unsustainable.  The game has moved past Nadal too but he continues to march along due to that forehand which may not be as effective on other surfaces after crossing 29 but continues to be a weapon of nuclear proportions on clay.  The spin that Nadal generates on his  ground shots, and the nature of the clay surface in itself has given Nadal a new, yet short, leash on tennis-life at the highest levels.  However, an analysis of why Nadal's resurgence in 2017 is nothing more than a dead cat's bounce will be left for another article as I'd like to draw reader's attention to my March 5, 2017 post on Djokovic http://www.138mph.com/will-djokovic-ever-rise-again/.  And below is a complete copy of that post for those lazy readers who may not want to click on yet another link.
Will Djokovic Ever Rise Again?
Djokovic still in a slump?  When is he getting back to, being his dominant avatar and, demolishing competition across the net by standing sturdy like the proverbial backboard tracking down the un-trackable, and schooling the likes of Nadal on how to put yet another ball back to utterly bulldoze whatever is left of hope across the net?  Is he ever going to hit that indomitable ruler of the world phase again?  The fans would hope so and the die hards would themselves start out for the Amazon rain-forest or the Himalayas to locate the herb that could give Nole his laser-like focus and insatiable drive back.   Only if it were as simple as that, because focus is not the only aspect of the game that needs to be recovered and reclaimed by Novak.  Novak's DNA compels him to prolong points and he is perhaps the only player who can not only outrun Nadal on the court but also win more than his fair share of "who'll put that last ball in" rallies against the bull.  Novak's game has been shaped by the general slowing down of the courts worldwide and honed into perfection by the likes of Nadal who was in his prime when Novak was trying to impose his domination in the world of tennis.  And, as with Nadal, slow courts allowed Novak to track down every ball and advancement in racket and string technologies helped him hit winners on balls that he could barely reach.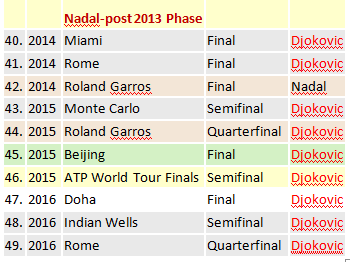 NADAL'S DECLINE DUE TO INJURIES
Converting lost points into raging winners was predominantly Rafa's domain but his injuries infested post 2013 period gave Djokovic an opportunity to surge ahead.   Nadal won about 56% of his matches against Novak prior to 2014 and only 10% thereafter.  This lopsided H2H prior to and after 2014 is probably the result of not only Rafa's injuries but also Novak's consistently higher level of play post 2013.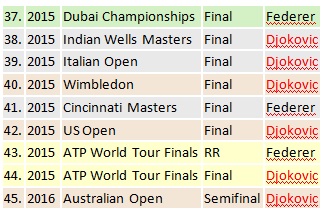 FEDERER'S DECLINE BROUGHT ABOUT BY AGE
The difference between Roger's and Novak's H2H however was never too wide.  What  really helped Novak's rise was the inevitable fall in Roger's level upon turning 29.  The age 29, in tennis, is like the first kiss of death and even the best of them with an amazing performance at 28 suddenly see their wheels come off upon turning 29!  The "turning 29" thesis is amply supported by the difference in H2H between Novak and Roger with Roger winning 68% of his encounters against Novak prior to 2010 and only 34% in the period thereafter.
The fall is even more precipitous for those who have reached number 1 positions by the time they hit their 29th birthday as they by then have clocked considerable mileage both mentally and physically by reaching more quarters, semis and finals than most others on the tour.   The decline in form, results and breakdown of body-parts and focus is further exaggerated with Novak's and Nadal's style of play as the pressure mounts to constantly track-down balls, out run opponents, and maintain unflinching focus throughout many rallies lasting 10 shots or more.
CONCLUSION
There is no escaping the "turning 29" rule.  If someone like Federer with his aggressive style of play and an in-built habit to cut points short and thereby lengthen his life as an active player on the tour could not contain the inevitable fall then there is no reason to believe that Novak with his unsustainable style of retrieving and prolonging points will be able to reverse the tide of time.    However, there is no reason for him to not perform well and win 2 or 3 more slams prior to hanging up his racket and riding into that glorious sunset around the age of 32-33; but, as with Federer and all other tennis greats, it'd be a pipe dream to expect the return of those halcyon days.
Save
Save
Save
Save
Save
Save
Save