Simona, Svitolina, Mladenovic and Bacsinszky – Who will win?
On Tuesday three of the four women's single's quarterfinals will be played. All players who have reached this stage in the tournament have gone through tough matches and conditions, and are playing at a high level. These match ups will prove for some interesting matches. Here are two matches to keep an eye on.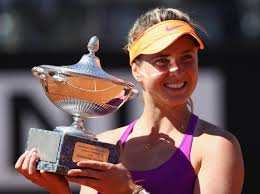 E. Svitolina vs S. Halep
Svitolina has been having tough and overall challenging matches ever since the beginning of this tournament. There hasn't been a single time where she easily breezed through a match. Her second round match was a three setter, and she won her third round match 6-4, 7-5. Both of these matches were against unseeded players in the draw. In the round of sixteen she played Petra Martic in another three setter, winning 4-6, 6-3, 7-5.
In that match Svitolina had 5 aces, 5 double faults, and 40 unforced errors. Svitolina doesn't seem to be playing at a level that would be a serious threat to players like Mladenovic or Halep. Her last few matches have been full of unforced errors. However, there must be something about the way that she is playing for her to reach all the way to the quarterfinals even though she is not playing her 'A' game. It seems like Svitolina has mastered the art of winning even when not playing her best tennis, a skill that will help her a lot in her quarterfinal match against Simona Halep.
Simona Halep has been having a sort of opposite score board result compared to Svitolina. She hasn't dropped a set so far, winning her first round match 6-2, 6-3, her second round match 6-4, 6-3, and her third round match 6-0, 7-5. In the round of sixteen she played Carla Suarez Navarro, who she blew away 6-1, 6-1 in an hour. Simona herself was very happy with her performance against the strong clay player who she has never beaten on clay. "I think I played my best match this year" said Halep exuberantly, as she described the way she tried to push Carla back behind the baseline and be aggressive.
Both players have won 9 of the last 1o matches they have played. The last time they played was just a few weeks ago in Rome, where Halep lost in three sets 4-6, 7-5, 6-1. There does however seem to be a shift in power dynamics, with Simona playing some of her best tennis this season, and Svitolina having a little bit of a dip. It would not be surprising if Simona managed to beat another player who she has never beaten on clay.
Prediction: Halep in 3.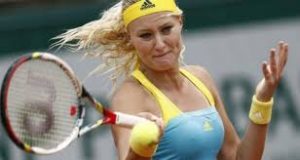 K. Mladenovic vs T. Bacsinszky
Both of these players have had very similar routes to the quarterfinals. Although they started out a little rough and have had quite a few tough matches, they played worthy opponents and fought their way through to win. Often times, their lapses in between games and sets would not be because of a wanting in game, but because of minute shakes to their mental stability which would result in them moving away from the optimal game plan, and therefore losing momentum for a few games, and sometimes even the set. Both players have just come from some great wins against strong opponents.
Mladenovic has just come from a great 3 set win against Garbine Muguruza, last year's French Open champion,  winning 6-1, 3-6, 6-3. Mladenovic was able to dominate the first set so ferociously that Muguruza only won 15 points. In the second set though Mladenovic began to waver, but still found a way to win the third set. Despite Mladenovic's 50% first serve rate and 16 double faults, she was still able to dominate with her ground strokes, mainly her forehand.
Timea Bacsinszky has been playing some great tennis herself. In her round of sixteen she played the American Venus Williams and won in three sets, 5-7, 6-2, 6-1. Bacsinszky was up 5-1 in the first and then had a mental lapse, going walk about and losing 6 games in a row. Bacsinszky however didn't let that get her down, and would find a winning strategy to win the next two sets. She used slices and drop shots, power and touch, flats and top-spins to throw Venus off her rhythm. Overall Bacsinszky is a very smart player and has shown that she is able to work her way around difficult opponents.
The head to head is equal at 1-1.  Mladenovic has won on grass in 2016, while Timea won on hard courts in 2017. The two have not played each other on a slow surface like clay, something that could dramatically alter the course of the match. If Mladenovic is able to continue to use her power and crowd support, she may be able to pull out the match. However, this will also depend on whether Elina will be able to handle Bacsinszky's myriad of spins, and to what extent Bacsinszky is able to take advantage of Elina's wavering service.
Prediction: Mladenovic in 3.
Save
Save
Save
Save
Save