Roger Federer is back and determined; determined to do well at Halle this week and prove that he will be a major contender for the Wimbledon trophy. After Roger's return from a two month break, he lost in his first match against former world number 2, Tommy Haas, at Stuttgart in three sets.
There would be no better place than Halle for Roger to reclaim his dominance. Not only is it on his favorite surface, but he has also won the tournament a total of eight times. He has not achieved this sort of dominance at any other tournament, and at this point in his career it is crucial that he gets an extra boost in match winning momentum. Halle might just be the perfect place.
Federer seems to be aware of how important this match is as well. He will face world number 68, Yen-Hsun Lu, who he has not lost a set to, leading the head to head 3-0. Although Roger is the sure to win favorite, Roger has stated that he doesn't plan on taking this match lightly. A good plan, considering the rest of the tour is out scouting for any signs of weakness.
"It's important for me, especially after the Stuttgart week, to come here and make sure I win my first round match and get going. I want to take the right decisions on the tennis court. I don't want to question myself too much. I'll have the right focus and mindset. That point-by-point mentality. That was a little bit off in Stuttgart, understandably so. I have to learn from that week and move forward in a better way," reflected Roger.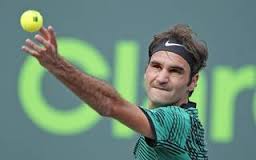 Despite Roger's not so eventful or fruitful comeback to the game after his two month break, Roger doesn't seem to regret skipping the entire clay court season, even though he was performing amazingly during the beginning of the season, winning the Australian Open, Indian Wells, and Miami. It seems like Roger is no longer putting that much importance on attaining the number one ranking, but is instead focusing on his Grand Slam count. Roger probably foresaw that the French Open would not be a possible win for him, and therefore decided to bide his time till the grass courts, and Wimbledon, called his name.
"Considering how well I felt going into Paris, it was surprisingly easy to take the decision and after making it I didn't have any regrets watching it or following the results. I never thought, 'If only I was part of the tournament'. I was looking ahead to the grass season and enjoyed the time with my friends and family at home."
Federer also seemed to think that skipping the French would be better for his body. After all, the incessant pounding of the hard courts does happen to affect your back severely, an area that is already a bit troublesome for Roger.
"I felt that the French Open may potentially have a negative effect on what's to come. It may have been helpful, but I felt there was more risk that it would go the other way. Based on health, that's why I decided to skip."
With Roger rejuvenated and back with the player mindset, we should be seeing some better results in Halle, which may just transfer to Wimbledon.