Rafa the Clay Court Legend
Nadal has won his 10th French Open title. He is now immortalized at Roland Garros, and honestly the finals match was unusually unimpressive, whether it be because Nadal was playing brilliantly, or because Stan just couldn't find his game or play the right way to defeat Nadal.
It was a simple affair for Nadal. There was no need for him to play out of his skin, no need for him to do anything that made him uncomfortable. In fact, it is quite sad that Wawrinka wasn't able to push Nadal out of his comfort zone even once.
Nadal's title as the champion of clay has once again been reinforced. Nadal ruthlessly defeated Stan (the man?) in three sets, 6-2, 6-3, 6-1, in a tidy display of topspin and retreiving. He is now the third person to win a slam in his teens, 20's and 30's, and has also claimed a 15th Grand Slam title, putting him in between Pete Sampras and Roger Federer.
"It's a feeling that's impossible to describe. For me the nerves and the adrenaline I feel when I play on this court is impossible to compare to another court. It is the most important event in my career, to win here is impossible to describe."
"You know, on paper, when you look at the scores, it all seems fairly easy. But it's not. As I said before, the French Open is the most important tournament of the year. That means that when you arrive in Paris, I'm very nervous and I know that it's going to be difficult for me…," Nadal says. "I was not able to catch my chance last year. This year I was… Again it's possible only because I have been physically strong and I have been mentally strong."
Even though Wawrinka has never before lost in a Grand Slam Final, a perfect 3 for 3, and Nadal has never lost in a final at the French Open. Nadal would continue this streak. On the day of the final, as the match started, Stan seemed erratic and was making too many unforced errors. Nadal was playing as he always does, with the energy and determination of his life depending on the match. As the match progressed, Wawrinka, prone to mental break down and frustration, would only fall further into his own spiral as the outcome of the match became clearer with each passing set.
Wawrinka would give Nadal too much time. Nadal's forehand back swing, as it is with many clay court players, is a little bit larger than hard court players, and taking time away from Nadal would be a serious game changer, however Wawrinka would hesitate to take the ball on the rise throughout the match, letting Nadal take control with his angels. In fact, Nadal was standing closer to the baseline than he usually does, showing just how submissive Wawrinka was being.
"I think from the beginning from my side, for sure, I didn't play my best tennis. I think I was a little bit hesitating with my selection of shots," admitted Wawrinka. "I was always a little bit between for a few reasons. He put this doubt in your head when you play against him because he's playing so well. And all the effort I have been doing last few weeks to get to my best level again, to get some confidence again, and to win all those matches, some tough matches. So many reasons made that score today, but mainly because he was playing better," said Stan.
Now the question is, was Wawrinka's play sub par because Nadal was playing too good, or was Nadal's play outstanding because Wawrinka was just unable to do anything at all on court?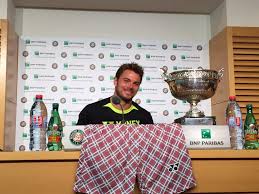 Warinka's errors would lead to him facing a break in the first set, as a forehand hit the net and he faced three break points, eventually giving the game up to Nadal and going down 2-4 in the first because of a backhand slice that hit the net. Nadal would win the next game with a backhand volley winner, and would bring up set point with a winner. It was by consistently pushing the Swiss out into the alley with the use of the angles that he can generate with his extreme topspin that enables him to dominate the points. Wawrinka was unable to use any of his weapons to fight back. Wawrinka would surrender the first set with another error, a forehand error.
In the opening game of the second set Nadal was given a time warning but that seemed to only motivate him further as he broke Wawrinka in a love game because of another Wawrinka forehand error into the net, and would then go on to hold 3-0 with a whipping forehand winner. Wawrinka would be unable to bring himself out of the rut.
A wide sailing forehand would hand Nadal two set points and Wawrinka's mental demons would get the best of him once again as he snapped his racquet over his knee in almost a fluid motion. It was surprising how easy it was for Wawrinka to break such a sturdy peice of material when it was so hard for him to even make a chink in the armour of the opponent who was standing across the net. That almost painfully beautiful action of demolition would not only signal the end of the second set, but what would also be the end of any chance that Wawrinka had of winning the match because it became obvious that Wawrinka would just not be able to come back from this.
For a moment in the third it seemed like maybe, just maybe Wawrinka will pull himself together, but it was a false alarm and the Swiss would go on to give Nadal the double break with, wait for it, another forehand that would sail long making it 4-1. Nadal would close out the match in the next two games.
The final point would be fitting in a way, with a Wawrinka error, this time a drop shot that would give Nadal the privilege of kissing the clay for the 10th time.
Save
Save
Save