Novak to Miss the US Open
Novak is all but officially out of the US Open, with an elbow injury that could be the end of his 51 consecutive appearances at Grand Slams, as well as an even further drop in his rankings. While he is already at world number four, his ranking is supposed to drop to number five within the next update.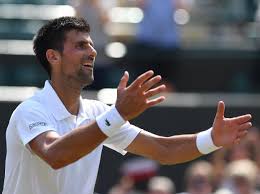 Novak Suffering From A Bruised Elbow
Novak has been going around, looking for second opinions from several doctors, including the Serbian doctor Zdenko Milinkovic, who says that Djokovic has a "bruised bone due to excessive playing." More than just excessive play though, Novak's win or die attitude is likely to contribute to this injury. Novak's undying will to win pushes him to play ugly, and twist and contort his body and arms in miraculous ways, that sooner or later have harmful effects on the body. In fact, in stark contrast with Roger, Novak is rarely balanced while executing his shots.
It is impressive to see Novak last so long with this style.
According to Milinkovic's diagnosis, Novak should rest 12 weeks before getting back on court, and since the US Open is set to begin in 5 weeks, this means that Djokovic is likely to miss out on the last Grand Slam of the season.
"The next examination will know whether this assessment stays or changes. During this period, he will not train with a racket but he will run other sessions, such as fitness and the like. Of course, there will be certain therapies.
"The symptoms have calmed down, he was with a specialist at Toronto for additional tests. He also consulted our experts, of course, because we are great friends.
"Now it's important to rest with different types of procedures that can affect recovery. Surgery remains the last option," reveals doctor Milinkovic.
Murray Looking To Recover In Time For the US Open
With Djokovic out of the picture, things seems a lot better for Roger Federer, whose textbook form has helped him stay far from serious injury at his age, and still compete at a high level. Murray also seems to be looking to make it to the US Open after his hip surgery, although his participation is still not 100% sure.
Save
Save
Save