Mladenovic and Wozniacki Crash in the Quarterfinals.
Favorite Mladenovic and strong contender Wozniacki have met there end at this year's French Open. Here's a little overview on exactly what happened in these two quarterfinal matches.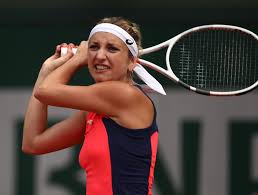 K. Mladenovic vs T. Bacsinszky
While Mladenovic was the French favorite this year, Timea Bacsinszky put an end to her dream-like run, beating Mladenovic in straight sets 6-4, 6-4. Mladenovic's run came to a somber end in a rain-delay filled match that took the entire day on Phillipe-Chatrier.
The weather on Tuesday seemed to display ominous beginnings, as it started out with strong stormy winds, a shower, and then sunshine in the evening, which would allow the match to finish after play was interrupted two times. Although the match lasted one hour and 49 minutes, it took 5 hours and 45 minutes to complete.
"It was really difficult because we had all the seasons rolled into one today. We had a sand storm, a hurricane and we almost had snow too," said a tired Bacsinszky after the match. "It was really tough to keep my concentration all day long. I feel exhausted and I'm sure you do too," Bacsinszky said to the crowd.
It seems like Bacsinszky was better equipped to handle the nerves and patience that such long and interrupted matches require. Not only was Timea able to keep her cool, but she was also able to adapt to the changing environment which heavily effects the nature of play on a clay court. Although Mladenovic should be adept at such adaptation as well, it seems like Bacsinszky just did it better.
Mladenovic seemed disappointed with her game on a whole. "I think she managed to play way better than me. Maybe her game suits these kind of conditions better… but I feel I'm very far from the game I could have shown."
The windy conditions seemed to distract Mladenovic from her play at the beginning of the first set. She experienced troubles with her toss, and was having issues with clay getting into her eyes. She went down 4-2 in the first set while she was wrapped up in her own problems. Mladenovic battled back, but she flubbed an easy backhand volley into the net and Bacsinszky was on a roll from there. Bacsinszky finished the set with an ace and fist pump.
It seemed like Roland Garros has been good for Bacsinszky. "I think the magic has been happening here for me always, even the first time I came here as a little kid. I'm still finding out why," said a content Bacsinszky.
As the winds died down, Mladenovic seemed to be on the verge of a comeback at 1-1 in the second set, but clouds gathered above center court and play was suspended as Mladenovic faced a break point. The break however didn't faze Mladenovic and she hit a smashing forehand winner to save the break and go up 3-1 in the second.
Bacsinszky refused to back down and broke Mladenovic twice, only for play to be suspended for another half an hour. Mladenovic returned with a vengeance and won her service game, and was about to break again. For a second it seemed like Mladenovic would have another comeback, but Timea stayed strong.
With another volley error from Mladenovic, Bacsinszky would win the match. Looks like Bacsinszky will have something other than just her 28th birthday to celebrate when she faces Jelena Ostapenko on Thursday.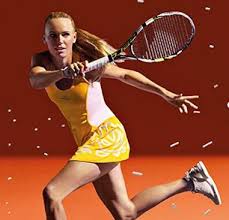 J. Ostapenko vs C. Wozniacki
Although Ostapneko had an early exit from last year's Roland Garros, losing in the first round of the French, it seems like the Latvian has been able to turn that around in 12 months, defeating the 11th seed Caroline Wozniacki in three sets 4-6, 6-2, 6-2, to reach the semifinals.
The 19 year old celebrated her birthday on Thursday, and is very excited to play in the semis. "I'm really happy. I still can't believe it. I'm really happy to play here, it's an amazing tournament," gushed the young player. "When I came here I didn't expect to be in the semis, but I'm playing better and better every match. I'm getting more confident, so if I keep it up, I think anything can happen." Ostapenko's new found confidence should only help her play better in her next round.
"In the first set, she was missing but then she started hitting it a few inches from the line the whole time. Her shots are hard to read, so you don't really feel comfortable at any point in the match," said a pensive Wozniacki.
In the first set the wind was so strong that Ostapenko was having a tough time hitting the lines. Her shots were going a few inches out and the more experienced Wozniacki was able to take advantage of Ostapenko's unforced errors. At 2-5 down, Ostapenko was able to fight off two set points and even broke her opponent, but in the next game she made three unforced errors and a double fault, losing the first set.
There was a change in momentum in the second set, and Ostapenko was able to break early, going up 2-1. She kept the pressure, and used some thoughtful angles to go up 5-2, but the weather proved a menace and there was a rain delay. Despite the delay, Ostapenko would go on to win the set.
In the second set Wozniacki managed to break early going up 2-1, but there was another rain delay, and once the players came back on court, Ostapenko would be in charge. She was much more aggressive and powerful, quickly finishing any short balls. Wozniacki was pushed far behind the baseline and wasn't able to find an opening to regain dominance over the teenager.
"It was tough because we had to go away from the court twice and Caroline is a tough opponent. In my mind, every time I go on court to play against her, I just know that I have to stay aggressive, but not go for every shot because I have to be consistent."
Going up 5-2, Ostapenko would serve for the match, and win the deciding game love. She is rewarded with a semifinal match against Timea Bacsinszky, to be played on her birthday.
Save
Save