Maria's US Open Wild Card, Zverev Makes It To Third Round
Alexander Zverev has reached the third round of the Citi Open in Washington DC. It wasn't an easy match. Zverev's intense playing style was disrupted several times by a level drop and lack of focus. Zverev was having a tough time in keeping the momentum on his side, but eventually he would prevail, defeating Australian Jordan Thompson 4-6, 6-3, 7-6 (5).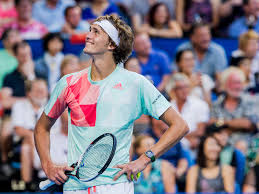 Thompson used his smarts to outwit Zverev in the first set, using a wide variety of slices and dices. He dropshotted on several occasions, a very effective tactic against Zverev since he stands a few feet behind the baseline, and even served and volleyed.
Alexander Zverev Manages To Pull Through
Zverev managed to get some momentum, winning the second set, but in the third he lost sight of the game plan, and the set would go into a nail-biting tiebreaker. With amazing serves from both sides of the court, both players would level it out 5-5. Thompson would be the one to break under pressure, hitting a double fault, and Zverev would close out the match with a strong forehand.
"I tried to stay calm and composed and just focus on me. He's played a lot on hard courts and this is my first hard court match since Miami. I'm just happy to be through and get the win," said Zverev.
"I think apart from the big four playing each other, me against Nick (Kyrgios) or me against Dominic might be one of the biggest matchups in tennis, for the media, for social media, and for tennis fans. I know there's a lot of talk around it, and a lot of expectations on playing these matches in this draw. But right now, we are where we are, and we have a lot of hard work ahead of us to be where we want to be," said Zverev when asked about his next round opponent, who was most likely to be Kyrgios.
However, Kyrgios lost to Tennys Sandgreen, who will now face Zverev in the third round.
Maria Sharapova Deflects Questions About US Open Wild Card
"So much was put on the decision of the wild card of the French Open, and it didn't work out. It's not something that I'm focusing on," says Maria when asked about her US Open wild card prospects.
"When I started playing in the clay season, there was so much focus on the French Open wild card and Wimbledon, and really around the Grand Slams," she said. "And I understand that the Grand Slams are the big events, they're the ones you want to compete at. But when you've been away from the game for such a long period of time, my focus is solely on the event that I'm playing at. 
"And for me, playing here is just as big, and I'll take away a lot of positives, maybe a few negatives, and I'll have to work through those just as much as I would at the U.S. Open."
When asked about the players who have been speaking out against giving her a wild card, she instead directed attention to the tennis officials who have helped her get into tournaments after her 15 month band.
Sharapova has received wild cards to Stuttgart, Madrid, Rome, Birmingham, Stanford, Toronto and Cincinnati, and has received other wildcard offers as well.
Currently ranked 171 in the world, and only recently winning her first WTA match since her return, it might be wise for Sharapova to work her way upwards from qualifying, to not only find her game, but her honor as well.
Save
Save
Save
Save
Save