Janowicz and Berdych Rolling in Stuttgart
Stuttgart this year has been full of surprises, and it isn't over yet. Just recently, Jerzy Janowicz has come across some luck, winning his biggest match in the last two years.  Even though, after beating Grigor he lost the next one to Benoit Paire he was still successful in announcing his comeback and did well to beat Grigor.
On Thursday at the Mercedes Cup Janowicz defeated Grigor Dimitrov in a straight set match 7-6(4), 6-3, to reach the quarterfinals. Apparently Janowicz's serve was on fire, its power propelling him through the match to his next. The world number 155 used his powerful game to his advantage, especially on a surface like grass where flat balls can easily begin to skid. In fact, the last quarterfinal that Janowicz reached was at Halle in 2015, another grass court tournament. He also reached the Wimbledon semifinal in 2013, another testament to his game on grass.
If Janowicz can win some more matches in his next tournament prior to Wimbledon than  he could be a serious contender at Wimbledon, especially with Djokovic and Murray not really in the running. There could be some major upsets and Janowicz is definitely a name to look out for in a few weeks.
Janowicz has only recently come back from injury.  Although Janowicz has not exactly made any big splashes on the ATP tour, he has had some tough matches against good quality opponents. He won a set against Djokovic at the 2016 US Open, took Marin Cilic to 5 sets at the Australian Open, and even made Grigor Dimitrov uncomfortable in February by pushing him to  a close 5 setter, definitely a platform for the upset today.
Dimitrov is going to have to go back to the drawing board and seriously think about what went wrong between his strong start at the beginning of the season, and the way he is playing now. His win loss record has been dismal since March, at 5 wins and 8 losses, and there hasn't been any major changes to his game to make it seems as if he has been trying to seriously address the problem. Dimitrov will have to do something if he plans on going far at Wimbledon and remain a serious competitor for the rest of the season.
While the first set was close, with nobody being broke, Janowicz would use his power and serve to take an early lead in the tiebreak and then close the set at the first opportunity. In the second set he would break for the first and last time at 4-3, and then serve out the match. His next opponent will be Benoit Paire, the Frenchman with a big serve and a solid double handed backhand.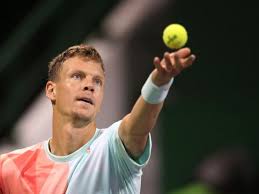 Also at Stuttgart, the third seed of the tournament Tomas Berdych defeated Bernard Tomic in straight sets, 7-6(4), 6-2.
"He was a tough opponent. We always have good battles so I was expecting a tough one today. I played quite well and took my chances, then had things under control in the second set," reflected Berdych.
Berdych is another strong fast court player. He has had some good experiences on grass and there could be a lot to look forward to if he can continue to perform well at Stuttgart and the first few rounds at Wimbledon.
Wimbledon just may be up for grabs.
Save
Save
Save
Save