Halep's Nerves, Ostapenko's Gain
Ostapenko has somehow become the 2017 women's French Open champion. The 20 year old was unseeded, ranked 47, and wasn't even someone who was considered a contender for the title. In the midst of the big names like Bacsinszky, Halep, Muguruza, and Mladenovic nobody spared Ostapenko a second glance which probably worked in her favor as she silently made her way through the draw and to the finals, where she surprised everyone with her win over Simona Halep.
Jelena Ostapenko defeated the Romanian in three sets, 4-6, 6-4, 6-3. This was not only Ostapenko's first Grand Slam, but also the first title of her professional career. It could not be a better belated birthday present for the player, who's birthday was two days prior to the final.
Halep seemed to have everything under control in the first set, winning 6-4. She then went up 3-0 in the second and things seemed over. Everything was going according to plan. Halep would win in straight sets, winning her first Grand Slam ever and the tournament and experience would give the up and coming youngster the confidence to go into future tournaments and play well. Jelena would become a serious contender.
However, things don't usually work out the way they are expected, and at 0-3 down in the second Ostapenko would have, what may just be, the most intense and riveting comeback of her entire career. In the next game Halep would go up 40-0, three break points, three chances to go up 4-0, but would be unable to convert a single point. Not only would Ostapenko win the game, but eventually win the next three and force a third set, to a now very frazzled Halep.
The nerves were clearly playing their role in the match. Simona didn't play a bad match. She was a professional, playing with determination and consistency, but her retrieving game was unable to stand up to Ostapenko's power and placement. Ostapenko was in control and was running Halep around ragged. Halep was either too nervous to try anything new, or was foolish enough to cling on to the hope that Ostapenko would break apart, that the newcomer's nerves and inexperience would finally break Ostapenko and give Halep the opening she would need to close out the match. Ostapenko however, seemed to take advantage of Halep's passive playing whenever Halep had a lead both in the second set, and in the third set when Halep was up 3-1.
Halep was unable to put her foot on the pedal when she needed it most, when she needed to close out the match, a testimony to why she has not yet won a Grand Slam. Halep is already so defensive, and if she becomes even more cautious because of nerves, it becomes easy for the opponent to take control of the match, which is exactly what Ostapenko did.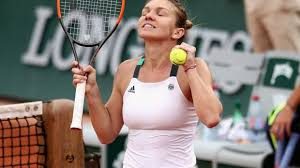 The reason Halep was able to get so close in both sets was because Ostapenko was spraying as many errors as she had winners. Ostapenko would fight back in the third, making it 3-3, and after hitting a backhand net cord that loosely fell on Halep's side of the net, the Romanian's body language seemed to deflate. The Latvian Ostapenko would go on to break 4-3, and would use the change of momentum to hold, going up 5-3.
Ostapenko would hit two more roaring winners, closing out the last two points of the match in a way that was most fitting for the powerful ball basher. Halep's dream run was over. Although Halep went through a mental 180 degree turn around after her coach Darren Cahill refused to coach her because of her attitude, it wasn't enough for Halep to win her first Grand Slam and capture the world number one ranking.
The wild swings of momentum throughout the match were a result of the two distinct and polar opposite styles of play. While Halep prefers to retrieve, grind and prolong the points, Ostapenko likes the points quick and fast. She uses power and placement to quickly take control of the point and hit the finishing winner. Halep is a more clam and composed player, while the young Latvian is loud. When Ostapenko wins a point she shouts in triumph, but when she loses a point she is no stranger to smacking a racquet against the ground and slapping her thighs in frustration. The energy of youth is something that cannot be replaced by skill.
"All the credit for what you've done. It's an amazing thing. Enjoy, be happy, and keep it going because you're like a kid," said Halep to Ostapenko. A kid that Halep must be a little jealous of. "I've been sick in the stomach with emotion. Maybe I was not ready to win it," said a crestfallen Halep.
Ostapenko's run at this French Open could be called not other than a dream run. This was only her 8th Grand Slam tournament and never before had she passed the third round. In fact last year she lost in the first round of the main draw. The year before that she lost in the first round of qualifying.
"I still can't believe I won," said Ostapenko. "It was always my dream, when I was a child I was watching players here. I am just so happy. I've just enjoyed it so much. I have no words."
"I cannot believe I am champion at 20 years old. I love you guys. It's so amazing to be here."
I no way though, was Ostapenko just lucky. Although she was surprised by her win, she still prepared and played the best tennis she could in an effort to win the match. Simona would never have lost the match so easily.
"I knew Simona was a great player. But I tried to play aggressive and everything turned my way. I fought for every point. I'm glad it finished my way," reflected Ostapenko.
Ostapenko has made head-ways in the last two weeks. She has traversed waters that she had never even dreamed of entering. She blasted her way through opponents and managed to win the heart of the French crowd with her accurate winners that paint the line.
We can expect a lot more from her in the future.
Save
Save
Save
Save
Save
Save
Save