Experience v/s Power – Simona v/s Ostapenko
With the semifinals coming to an end, we now have our two 2017 French Open women's finalists, who will compete for the title of French Open Champion on Saturday.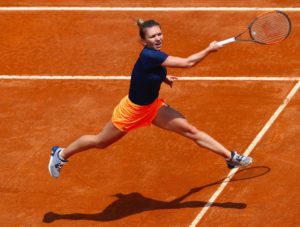 S. Halep vs. K. Pliskova
Simona Halep defeated Karolina Pliskova in the semifinals in three sets, 6-4, 3-6, 6-3. Halep is now one match away from not only claiming the number one ranking but also winning a Grand Slam for the first time in her life, a goal that she has been waiting to achieve for several years.
Halep's long journey at this year's French Open was quite unlikely, as the chances of her even competing were slim because of her ankle injury, but Halep has managed to push those issues aside, and has now reached the finals.
"It is an amazing feeling, I'm so happy," gushed Halep. "I came through a tough match yesterday but I just care about today. Karolina is a good player and made it tough."
"It is nice to be in the final again, I hope I can play better and win it."
While the match started out slow it would soon turn into a roaring contest of Pliskova's power and Halep's return game and ability to direct that power. Although the second set saw a strong shift of momentum, Halep would emerge victorious. In this two hour match Halep would show that she has courage, fight, and enough game to win tough matches. It seems as if determined to prove that she can win this French Open, with her ability to run down balls and return even some of the most difficult serves with ease.
Halep started out the set in control, with the momentum on her side. She would take advantage of Pliskova's two double faults, which would give her the break and propel her to 2-1 up in the first set. Halep would go on to save two break points in the next game.
Pliskova seemed almost uninterested in the match in contrast to Halep's fiery energy and passion. The distinction between the two players' attitude was only made clearer with Halep's consistent upbeat and determined attitude. Pliskova's unforced error count was quite shocking as well, 24 in total. Three of those would be in the game that Halep served out to win the set.
Pliskova would manage to save three set points in the first set, which would give her the power to play much better in the second. Her serves began to work, hitting the marks and having more power, which in turn gave Pliskova to take more risks on Halep's serve. With some strong return games and aggressive play, Pliskova would manage to win the second set as the match progressed to an hour and 18 minutes.
Halep was unfazed. She continued to push and held serve until 2-1, when she then broke Pliskova with an amazing cross court running forehand winner. Pliskova seemed unable to deal with her own demons. Although she was able to break back, making it 3-4, it didn't seem to worry or affect Halep. Halep would claim victory when Pliskova's forehand flew long, throwing her hands up in triumph.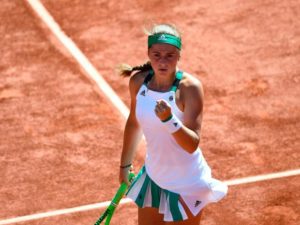 J. Ostapenko vs T. Bacsinszky
Jelena Ostapenko is Latvia's first Grand Slam finalist, and she is bound to recieve a hero's welcome when she returns home after defeating world number 30, the Swiss player, Timea Bacsinszky in three sets, 7-6 (4), 3-6, 6-3, a surprising upset.
Ostapenko is already aware of the attention that she will be receiving. "Tennis is actually not popular in our country because it is kind of an expensive sport. I think, yeah, I will probably have a lot of attention when I come back home."
Not only was this fateful win on her birthday, but Ostapenko was able to display just what she has in store for tennis as a sport with her strong and powerful ground strokes and accurate winners that land just mere inches away from the lines. In fact Ostapenko has hit 245 winners in the six matches she has played to reach the finals, more than any player has hit in the entire tournament, whether it be men's or women's. Often times her forehand was faster than men's world number 1 Andy Murray, however Ostapenko's forehand can be erratic and error prone at times.
Although Ostapenko has been wreaking havoc with her forehand throughout the tournament, she has remained under the radar until recently, not really because of her game but because of her young age and lack of experience compared to some of the bigger names on tour. The Latvian however has not allowed that to bring her down, and in fact has been able to use that to her advantage. Since Ostapenko's game is highly aggressive and relies on winners and shots that paint the line, the lack of pressure must have allowed her to go for her shots without hesitation, which only made her winner count increase.
Ostapenko also seems to not be the biggest fan of her forehand, even though it seems to be her strongest shot and greatest weapon. "My forehand? Normally, no, my backhand is my favorite shot," says Ostapenko cheekily. "But I was working on the forehand and I think it's pretty good now. I think I feel more confident with my forehand now."
Although Ostapenko was an aspiring ballroom dancer till the age of 15 until she decided to pursue tennis more seriously, it seems like she has made the right choice, especially considering the fact that she will be playing her first Grand Slam final on Saturday at the age of 20. It seems like Ostapenko has taken some of her ballroom dancing days wisdom and used it in her tennis career, especially the saying one step at a time.
" I mean, when I came here, of course I didn't expect that I would be in the final. But then first match was a tough match and I won it. I think it kind of gave me confidence. Then every match I was playing better and better and I got my confidence, and I think it works pretty well."
Ostapenko plays Simona Halep in the finals, and she will have to play out of her skin to defeat the determined Romanian.
Save
Save
Save