Tomic And Tennis vs. Muguruza And Tennis
After Muguruza's first Grand Slam win, her 2016 French Open title, expectations were high for the Spaniard. People expected her to be the new woman on the block, to become a rival to the likes of Serena Williams, to create a rivalry that had not been seen for a while in women's tennis.
However, Muguruza would fall prey to the pressure of performance, and ultimately have a dry spell until her 2017 Wimbledon win. In fact, Muguruza has won a total of 4 tournaments in her professional career so far, two of them being Grand Slams. Although Muguruza does get to experience the highs of victory, they are coupled with lows that are easy to get stuck in.
This time though, Mugurza plans to work harder and not allow the pressure to get to her head. Muguruza does not plan on another trek through the desert of loss, and would much rather enjoy the sport than worry about the expectations of winning, a worry that won't help her win anyway.
All I Know Is Tennis And Tennis
Muguruza had an interesting interview where she contemplated her view on tennis.
"I think everybody, well not everybody, I can't speak for everybody, but for a lot of people, they have this love/hate relationship (with the game). It's hard in defeat, it's very nice when you win. It's combination of things (that you go through) and I also felt like that. When you win everything is so beautiful and when you don't it's not so, everything is darker. You need to turn things around.
I'm still searching for what I would do when I'm not in love with tennis, in order to make myself feel better. It's hard because I've played tennis since I was 3. All I know is tennis and tennis. My family is super passionate about the sport and I love it too. I love to cook. I like music and try also to be like a regular girl/woman."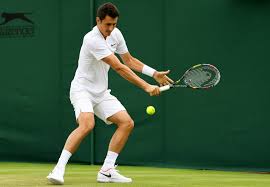 Tomic Regrets Playing Tennis
In contrast, there are players like Tomic, who have been forced into the sport. All they know may be tennis, but they actively yearn to have a different life, and are not content with just playing the sport itself. Their main motive is the money and fame that comes with winning, rather than the process of winning itself.
Tomic could just be going through a bad spell, or maybe he is really burnt out and needs a break, or to just stop playing completely. The point is that Tomic no longer loves the sport, in comparison to Muguruza, who admits that there were times when she hated the sport as well, but deep down she knows that she enjoys it. Tomic has forgotten why he chose to play tennis in the first place, because when he was playing the junior circuit there was no way he was famous or making loads of cash.
There must have been a different motivation for playing, hopefully one that Tomic is able to remember, and if not, then he might as well give his racquets to a homeless person, like Agassi did when he was tired of the sport as well.
Save
Save
Save
Save
Save
Save
Save
Save