Tennis: David Goffin showed that Grigor Dimitrov is not the second coming of Roger Federer
Much is being written about Grigor Dimitrov's success and mental toughness at the ATP Finals in London last week, and the promise that it holds for his 2018 season. We, however, feel that David Goffin was the more effective, and better, player for over two sets in that match.
David Goffin has the winning formula on fast indoor courts.
There's no denying that Grigor Dimitrov won the match 7-5, 4-6, 6-3, but it was David Goffin who dominated for the most part. It seems David Goffin has the winning formula on fast indoor courts.
Goffin may have the winning formula and the talent, but he lacks the size and the power needed to hit consistently with the big boys.
Grigor Dimitrov did not play as aggressive as David Goffin.
Grigor Dimitrov did not win by playing aggressive tennis, but by playing ugly. He scrapped and lunged and contorted his frame like Novak Djokovic, and did whatever it took, to not lose. David Goffin, on the other hand, played to win, but couldn't sustain the level and continue to be aggressive in the third set.
It was Goffin who took charge of the rallies and played proactive tennis. However, it was Dimitrov's scrappy and reactionary tennis which won the day in the end.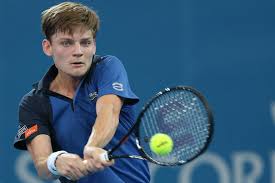 Dimitrov may be baby Feds, but Goffin played like Roger Federer.
Both David Goffin and Grigor Dimitrov had a break-through tournament. However, Goffin beat the number one and two players in the world, and in both those encounters, he was the better and more aggressive player. To play even more aggressive than Roger Federer is in itself an achievement, and Goffin not only played more aggressive but also beat Roger Federer at his own game.
Grigor Dimitrov may be "Baby Fed," but David Goffin played more like Roger Federer. David Goffin took the ball early and approached the net whenever possible, and sometimes even when it wasn't. Therefore, Dimitrov's performance cannot be construed as the second coming of Roger Federer because Grigor is neither as aggressive nor dominant as Roger.
David Goffin clocked thirty-seven winners, ten aces, and imposed his game by moving forward. Only if David Goffin was a little stronger, and with more power to his game, we would have a different winner at the ATP Finals.
Can Grigor Dimitrov win a slam?
Novak Dimitrov is a talented bloke, and his performance here was commendable. However, the scrappy, reach all balls at any cost, Novak Djokovic style tennis is not sustainable in a slam, by anyone not as consistent as Djokovic, played over fourteen days and seven consecutive matches. However, stranger things have happened in slams, and the prospects of Grigor Dimitrov winning a slam don't seem very far-fetched.