Tennis: David Goffin played more aggressive than Roger Federer to win the semifinals at the ATP Finals in London.
Not many, if any at all, gave David Goffin the chance to beat Roger Federer in the semifinal at the ATP Finals in London.
Roger Federer was ruthlessly aggressive in the first set.
The match started with Roger Federer breaking David Goffin early and then scoring a break again in the fifth game. A combination of the cross-court, which took Goffin out on of sideline, and down the line backhands won Federer a double break in the first! Federer was ruthlessly aggressive and pounced on the mid-court balls in the first set. It was vintage Federer, in the first set and his game was on song.
At 15-15 in the seventh, he came up with a drop shot that spun to the left onto the sideline which Goffin was unable to handle. Federer's array of creative shots and his talent was at a full display, and except for a few shanks, which were probably the results of an over-aggressive game. Feds took the first set with an ace for 6-2.
David Goffin started playing Federer's aggressive brand of tennis.
The down the line backhand, which made Nadal's life so miserable this year was struck again at 30-15 on David Goffin's serve for 30-30 in the first game of the second set. However, that was perhaps the last we saw of it in the match, as Goffin managed to hold his serve for a 1-0 lead, and then raise his level and aggression to earn his first break in the first service game of Roger Federer.
David Goffin played an aggressive brand of tennis and moved forward, even at the cost of executing swing volleys. He played that Roger Federer brand of tennis which we, at 138mph, consider "aggressive."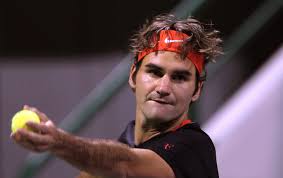 Controlled aggression was Federer's forte, but Goffin was better at it here.
Hard-hitting tennis, and creating winners from the baseline does not qualify as aggressive tennis in our books. Moving forward, taking the ball early and time away from the opponent is aggressive tennis, and David Goffin outplayed Roger Federer at Roger's own game of controlled aggression.
Federer sniffed a few breaks chances, but Goffin held onto his one break with his life and didn't let go. Moreover, a drop in Federer's first serve percentage helped Goffin considerably in holding onto that precious break.
David Goffin's first serve percentage picked up significantly, and he clinched the second relatively easily for 6-3. Goffin had nine winners and seven unforced as compared to nine unforced and seven winners by Roger Federer.
Fast courts help David Goffin's game.
David Goffin's game, which is bereft of any real weapon, is well suited for the fast courts as they allow him to leverage his short back-swing and flattish ground-shots and exploit the pace of the surface to his advantage.
David Goffin was at his aggressive best in the third set.
Roger Federer started the third and held onto his serve for 1-0. Leading 0-15, on Goffin's serve, Federer turned defense into offense for 0-30, but David Goffin erased that lead and went on to win the game for 1-1. Goffin then increased the aggression in Federer's service game and broke Federer for a 2-1 lead.
Unforced errors came easily from Roger's racket, but a missed put-away and a double fault from David Goffin brought Roger Federer back in the game. Roger's advantage, however, was erased by Goffin's back-to-back aggressive net play, which gave Goffin the game-point. Goffin's first serve percentage and aggression steadily increased, and Federer's unforced error count kept getting worse. Goffin won nearly thrice the points than Roger Federer from the baseline.
David Goffin scores his first win over Roger Federer in seven attempts.
David Goffin started the tenth game of the third with two consecutive aces down the center. He managed to score his first win over Roger Federer in their seventh meeting.This was a major upset by all accounts and helped Goffin reach the finals of the year-end ATP event for the first time.