Jelena Ostapenko – The Not So New Kid In Town
Jelena Ostapenko. The new name on everybody's lips after this year's French Open, where she most surprisingly made her way all the way to the final, only to defeat Simona Halep, and win her first title, a French Open Grand Slam title.
Many people thought of her win as sudden and unexpected, as if she had never shown the signs of being a serious threat before. This could be nothing other than false. In fact, Ostapenko has shown various signs of being champion and top contender material, ever since she won the junior's Wimbledon in 2014. Even then she had the same hard swinging, line painting game that she displays even today, a game that was built with her mother since day one. Because that playing style is an inherent part of Ostapenko's game, in rough times she does not become defensive, but plays even more aggressive and attacking then before, swinging harder and faster.
Ostapenko has a history of upsets to her name at big tournaments. In her first main draw appearance at a Grand Slam, Wimbledon 2015, she defeated Carla Suarez Navarro in the first round, who was ranked number nine in the world, while she was just a wild card entrant. At the U.S Open the same year she would battle through her qualifying rounds and play America's sweetheart Cici Bellis, defeating her in two sets, only to go on and take the first set 6-0 Sara Errani. Sara Errani was world number 16, and Ostapenko was unable to win the match.
Although these wins would in no way bring Ostapenko into any sort of spotlight at all, they would give her a base that she needed. It would foster belief and strength, and most importantly, with a runner up trophy Quebec City, it would propel her into the top 100 for the first time.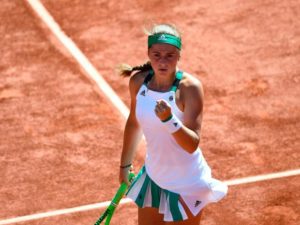 In 2016, the young Latvian would reach her second final at Doha. In the process she would defeat Svetlana Kuznetsova and Petra Kvitova, two big players on tour, and with these notches on her belt it is surprising that no one thought of her as a greater threat once 2017 began. She reached the third round at the 2017 Australian Open, where she lost to Karolina Pliskova, world number five. It was not easy match either. It went to a tough third set with Ostapeko leading 5-2, but finally giving it away in the end, whether it be because of nerves or inexperience, 10-8.
Before the French is when Ostapenko would truly gain momentum, reaching the finals in Charleston and the semifinals at Prague. Even then, Ostapenko was never really thought of as someone to look out for, something that now strikes most as a surprise as they realize that she did have some good wins under her belt this season.
The underdog status might have been good for Ostapenko though, and she used it well, stealthily making her way through the rounds of the French all the way to the final. One thing is for sure, every one knows her now, and everyone will be watching out for her at Wimbledon, where her hard hitting flat game should shine.
Let's see how well the Latvian handles the spotlight.
Save
Save
Save
Save
Save