ATP Tennis: Federer enjoys a day off, Nadal quits, and Djokovic decimates Sousa at the Paris Masters.
Roger Federer enjoyed a much-needed day off with a walkover from Milos Raonic's in his second, after a bye in the first, round at the Paris Masters. Roger had a satisfying but tiring stint at Basel last week, and an additional day to rest those creaky bones and worn out joints were a god sent.
The Maestro should move into the quarters.
The next match against the mercurial and very talented Fabio Fognini should test Federer's game considerably. Fognini is a dangerous one and can beat just about anyone. Roger Federer, however, is not just about anyone. He is the Maestro and, therefore, expected to move into the quarters to face the winner of the Nishikori and Anderson match.
Rafael Nadal quits the Paris Masters.
While Federer enjoyed a walkover, Rafael Nadal, true to his year-end form and reputation, gifted one to his good friend Fernando Verdasco. Nadal decided to skip the event citing abdominal pain, and is also doubtful of participating in the year-end ATP Finals in two weeks. Verdasco's, however, unable to beat the luck of the lucky loser, lost in three to Malik Jaziri.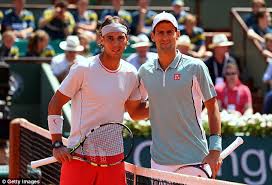 Novak Djokovic is on a rampage.
Novak Djokovic continued his rampage and made short-shrift of Joao Sousa. Novak's next opponent, Damir Dzumhur, doesn't wield the weapons required to penetrate Novak's impenetrable defenses, and, therefore, should meet the same end as Sousa's. There is, therefore, little in the way of Novak and the trophy.