ATP Tennis: Fearless analysis of the 47th meeting between Federer and Djokovic at the Paris Masters 1000.
Roger Federer beat Kei Nishikori 6-4, 6-4 to earn a meeting with Novak Djokovic on Novak's happy hunting grounds at the Paris Masters 1000.
Djokovic is the master grinder.
The master grinder must be salivating over the prospects of putting that one extra ball back against the Maestro and bringing the colossal down onto his old and creaky knees by the start of the second. Djokovic's game was shaped to crack the dominance of Roger and Rafa, and it excelled at achieving that objective. The six years age gap between Roger and him helped Novak gain an head-to-head advantage after Federer turned 29.

The grinders and retrievers versus the talented and, therefore, the cursed.
A tennis player's prime is from 20 to 28. Grinders and retrievers, with a larger margin for error, like Nadal and Djokovic strike form and win their first slam by 20-21 and the talented blokes, who depend on timing, take a little longer to hone their craft and take an additional year or two to capture the big one. The slow courts nowadays are making it quite impossible for the truly talented, except Stefanos Tsitsipas, to emerge. Talent and aggression, based around timing, is a curse on the slow courts nowadays.
Turning 29 is the kiss of death in tennis.
The gap between Rafa's and Novak's level was never too wide. Novak's rise was aided tremendously by the inevitable fall in Roger's level after Roger 29th birthday. The age 29, in tennis, is like the first kiss of death. Even those performing exceptionally well at 28 experience a sudden drop in their levels, upon turning 29! The head-to-head record between Novak and Roger supports the "turning-29" thesis. Roger won 68% of his matches against Novak before 2010, but only 34% thereafter.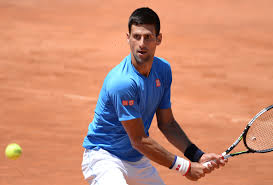 What are Novak's strengths going into the 2018 Paris Masters semi-final?
Novak Djokovic lags only in tennis-talent as compared to Roger Federer. He has everything else going for him. He can outrun and outlast Roger, and his baseline grind is well suited for today's' tennis played on slow motion, as compared to 2001, courts with magical strings which can help retrievers put another ball back into play from even an out of balance position. Tennis is more about speed, strength, and endurance than tennis-talent and racket-wizardry today, and Novak Djokovic at 31 is faster, stronger, and can maintain focus, speed, and a consistently high level of retrieving and grinding for longer than the 37-year-old Roger can maintain his insane skills level.
What are Federer's strengths going into the 2018 Paris Masters semi-final?
Talent, variation, shot-making, net-play, and aggression are Roger Federer's forte. He is way better than Djokovic in all those areas but, at 37, lacks the endurance and speed to execute, all those wonderful blessings of talent, against the best grind-bot for over two hours. Novak Djokovic, on today's courts, designed for grinders like him, would have won 25 slams, if he could only learn to approach the net properly. And, forty would not be stretch if he had the variation and aggression of the Maestro. Roger's 20 slams in this day and era of super-slow courts, however, is more shocking than Novak lack of 25, or more!
Will it be Roger Federer or Novak Djokovic?
There is an eighty percent chance of Novak Djokovic winning in three and a high probability of him dispatching Federer off in two. Novak is playing God mode, but Roger is the God of tennis. There is, however, always a 20% chance of Roger Federer squeezing out a win in straight.